Targeted Teacher Support to Improve Student GPAs
Over the last two decades, educational initiatives geared toward college readiness have largely focused on measuring student achievement and teacher effectiveness through standardized test scores. Recent research, however, suggests that a student's grade point average is a stronger and more consistent predictor of college readiness. Grading practices and policies can vary, and so do teacher support. So, how do you help your school positively impact student grade averages, improve GPAs, and ensure no students slip through the cracks? Instant access to grade and GPA data can play a key role. 
Grade analysis at a micro and macro level
Classroom teachers have access to their grade books and should be able to easily tell you the current grade of any student in their class. They can analyze an individual student's progress, identifying areas they need to improve in or assignments they need to complete in order to improve their grade. And they can probably pretty easily tell you what the average grade is in their class if needed. 
But this level of analysis focuses on the individual. And while that is very valuable data, it falls short of helping us answer larger questions, like:
How many students are passing or failing a given class? And how does that compare to their progress last month, or last semester?

How does one teacher's passage rate in their classroom compare to others teaching the same group of students? Is there any difference we can observe? 

Is our MTSS program having the academic impact we are striving for? Where might we need to troubleshoot?

In what grade levels or subjects are student GPAs struggling? Are there supports or interventions we can provide to help empower teachers to impact student GPAs and passing rates?
Bigger picture analysis like this is needed by teacher leaders, instructional coaches, and school administrators to ensure that progress is being made for all students, consistently. And out of the many factors that may influence student outcomes and their GPA, we know that teacher effectiveness is one of the greatest predictors of student mastery and future achievement. Therefore, a key focus should be on using large-scale student grade data to inform teacher support and development.
Grades Overview Dashboard
A Grades Overview Dashboard serves as an accessible tool to help educators understand school-wide grade average trends and passing rates while identifying students in need of targeted support for their grades. With this dashboard, you can view GPA trends over time, filtering student grade data by grade level, class subject, or other student demographic group as needed.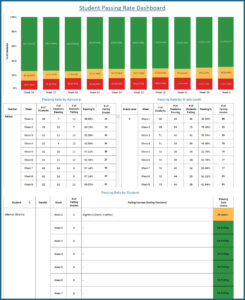 This in turn provides school leaders with actionable data they can use to better collaborate with teachers. Coaching or development conversations can focus on analyzing the student grade data together so that meaningful insights can be drawn to inform action steps. 
Department Heads or Leads could use this tool to plan a department meeting on student grade averages and develop differentiated intervention groups. Instructional Coaches can set specific grade average goals with a teacher and regularly monitor progress to help accelerate the improvement of student passage rates in the classrooms or subjects that need it most. Having data available like this will help to build a culture of collaboration and transparency aligned with school goals for student achievement. [Te
acher Support]
Without access to this information, teachers and school leaders are missing out on valuable opportunities to better understand where students are academically and how they can target their practice to support those who most need it. 
Is it time for this in your school?
While every educator has an important role to play in positively impacting student GPA and the opportunities students can access for post-secondary planning, we know that teachers can have the biggest impact of them all. And to be their most effective, teachers deserve resources and support that provide them with actionable data and insights to improve students' grade point averages. If you are ready to help your staff save time in collecting and understanding student grade data so they can focus on implementing meaningful practices and interventions, view more information about this dashboard here.
————————————————————————————————————————————————————————
More Blogs:
Assessment Dashboards to Help Accelerate Student Achievement
Advisory Dashboard – Use at a glance tool to help keep your students on track
PowerSchool Behavior Tracking: Streamlining Student Behavior Management
Why PowerSchool Attendance Plugin is a Must-Have for Schools and Districts
How to use Early Warning Dashboard to view On-Track and Off-Track students