At PureData, we use district data from a variety of sources, including PowerSchool SIS, Naviance, Salesforce, Spreadsheets, College Board, NWEA MAP and more. By bringing all of this data together in one place, we give you the ability to see the big picture and make informed decisions! One of the dashboards,  which is the PowerSchool Student At-Risk dashboard, allows greater analytical capabilities by providing deeper drill-down options into your student's data.
The student early warning dashboard is an essential tool for educators who want to identify and address potential academic issues before they become larger problems. It offers a range of features that can help educators monitor student progress, identify trends and patterns, and make informed decisions to support positive outcomes for all students.
With this platform, you'll be able to:
Know your school-wide, grade level, and group averages.
Track students who are not meeting benchmarks and detect patterns for improvement.
Dig deeper into student profiles to see trends over time with one click.
Easily export data for additional analysis.
Connect multiple data sources and add/customize data to meet your needs.
Here is a demo of the PowerSchool Student At-Risk dashboard:
Here are some snapshots of the dashboard: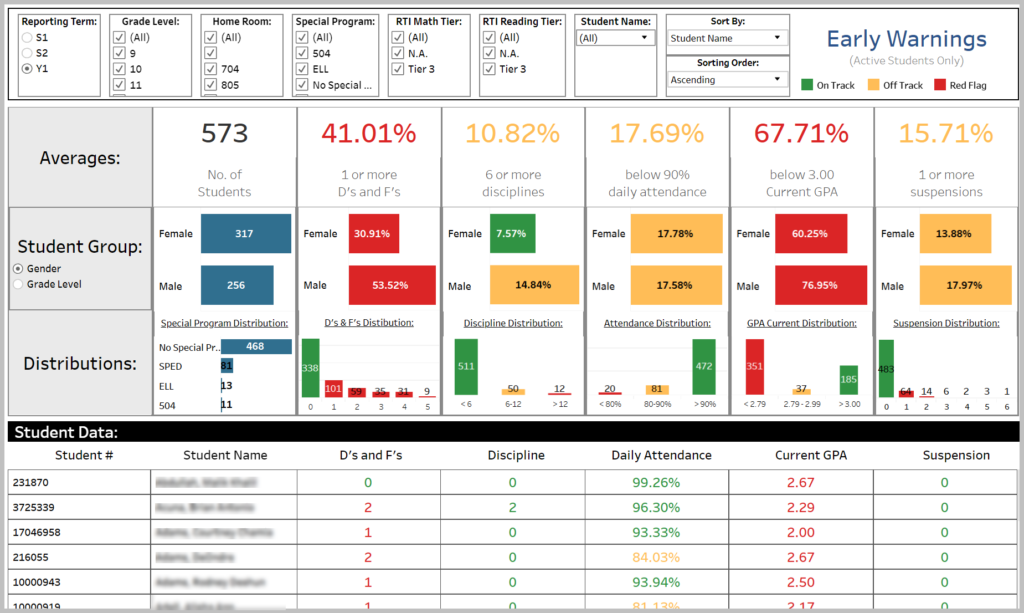 Explore PureData's Dashboards here and contact us for more information. 
————————————————————————————————————————————————————————
More Blogs:
Capturing Student Behaviors in PowerSchool
Efficiently Tracking Student Behavior with PowerSchool SIS
Using a Merit System to Improve Student Behaviors: Benefits and Best Practices