The PowerSchool Behavior Management Plugin is an all-in-one solution for educators to effectively manage student behavior data directly within PowerSchool SIS.
✓ Student Log Entry Creation: Record various behaviors for students, such as positive, negative, contact, or other. This feature allows teachers and administrators to create multiple log entries for multiple students in a single location, making it simpler to manage and track student behavior.
✓ Referral Creation: Generate a referral to indicate the escalation of a behavior problem to a dean or administrator. Streamline referral tracking with open and closed referral reporting.
✓ Assign Positive Points: Mass create positive points for students who meet certain criteria, such as perfect attendance, passing all classes, or good behavior.
✓ Purchase Mode: Effortlessly record bank purchases and effectively manage rewards at the school level for your PBIS program.
✓ Consequence Management: Manage consequences by automatically converting negative points into a consequence or one that an administrator assigns.
✓ Email Notification: Keep students, guardians, teachers, and deans informed about a student's behavior by sending email notifications.
✓ Reports: Use powerful reporting tools to view current and historical log entry data by date, teacher, grade level, student group, and more.
✓ Student Profile: Access a student's profile to view all relevant academic, attendance, and behavioral data in one place for easy monitoring and tracking.
---
Student Behavior Entry Form

User-friendly feature for entering student log entries.

Easy to use: The entry form is designed to be intuitive and user-friendly, making it simple for teachers and admins to create multiple student logs.
Accessibility: The feature is compatible with both the admin and teacher portal, making it easy for users to access and use.
Email Notifications: Offers easy options for sending email notifications directly via the entry portal, saving time and effort.
Referral: The one-click referral feature makes it easy to create a referral for a student, streamlining the process for teachers and admins.
Consequence Tracking: Allows entering teacher and admin action associated with a student's behavior.

 

 

Student Profile

PureData PowerSchool Behavior Management Plugin offers a convenient and user-friendly feature for viewing student data all in one place with the PowerSchool student profile.

Centralized Data Management: The PowerSchool student profile brings all student data into one place within PowerSchool, making it easier to keep track of important information and eliminating cluttered and outdated data.
Personalized Motivational Tips: The student profile utilizes AI technology to generate motivational tips tailored to each student based on their current performance, encouraging student growth and success.
Accessibility: The student profile has a simple and intuitive design with easy navigation, making it enjoyable and effortless to use. It is compatible with the PowerSchool Admin, Teacher, and Student/Guardian portals.
Email PDF (coming soon): Users have the option to email the student profile to parents, students, and admins, keeping everyone informed and involved in the student's progress. This feature will be available soon.
With the PowerSchool Behavior Management Plugin, creating log entries for students is easy and allows for keeping all stakeholders and parents informed via email notifications. It also enables the creation of referrals to escalate behavior issues to deans or administrators and provides access to powerful reporting tools to instantly identify which students may be falling behind or have exceeded expectations in academics and behaviors.
Monthly Pricing:
$149/school
Custom Pricing available for 1000+ students
Additional Dashboards and Reporting
Our dashboard platform is a great way to track your school-wide and subgroup behavior details. With the dashboards, you can see an in-depth breakdown of each behavior along with its information. Our goal is to make all of the data available, so you can drill down into it easily and export it for additional analysis. It is a great way to identify trends over time so that you can keep a close eye on how your students are performing:
Student behaviors trend over time: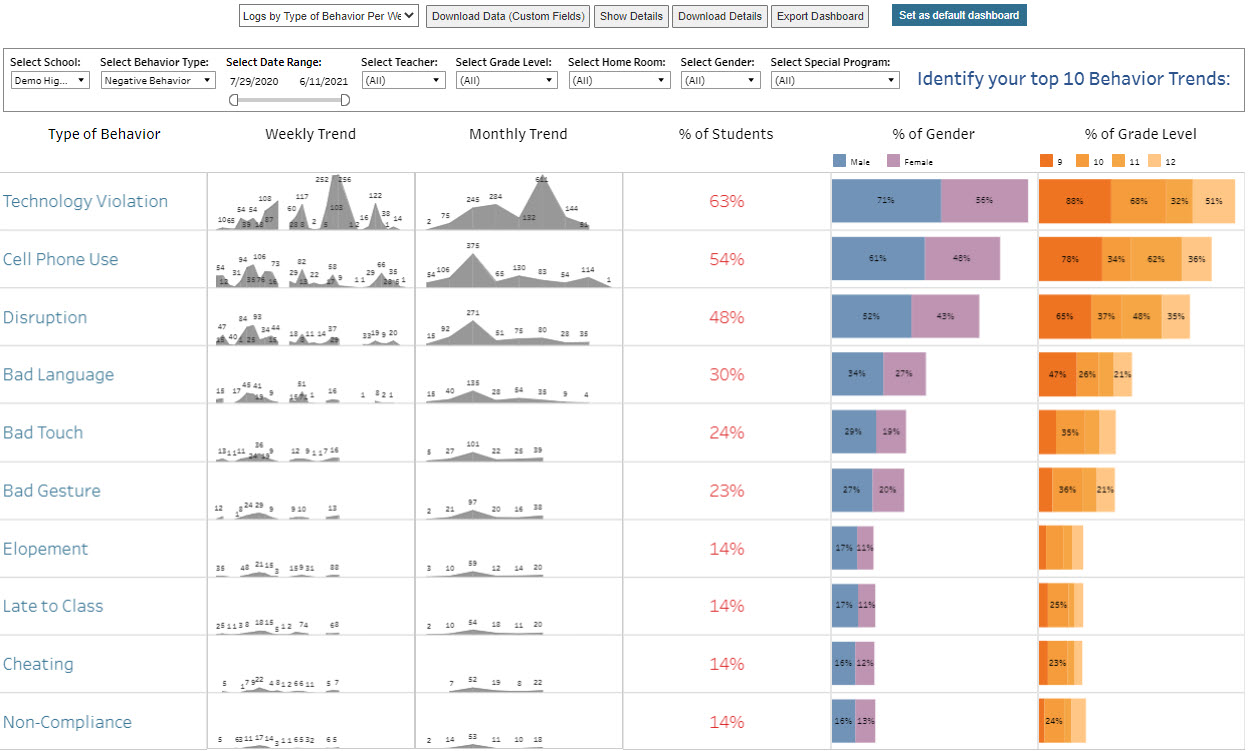 Student Data – All in one place: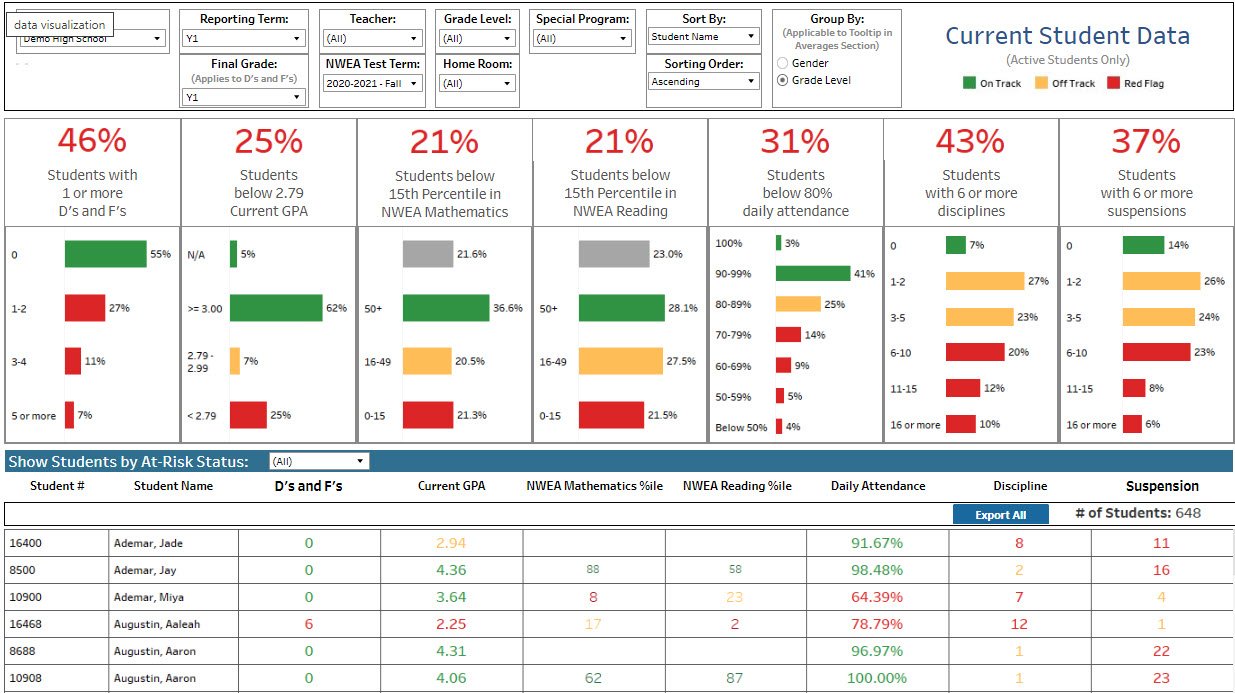 Watch the Demo